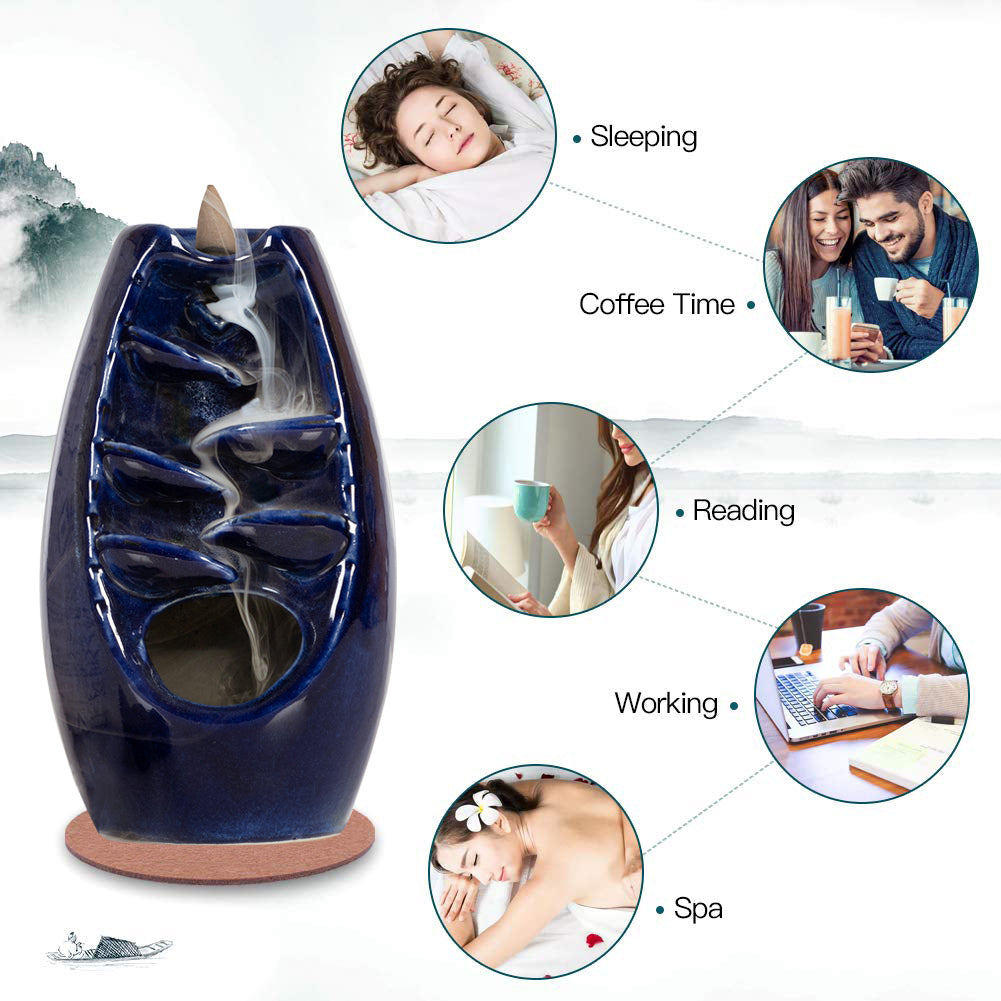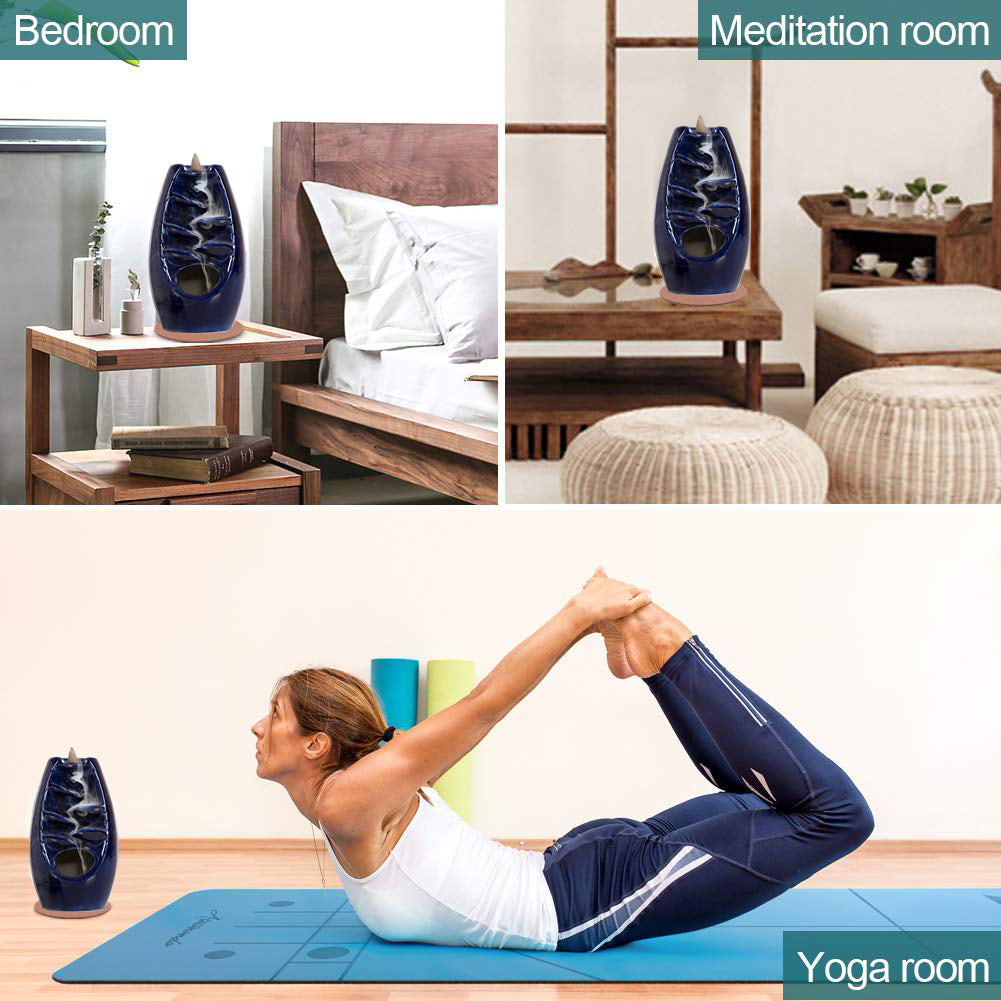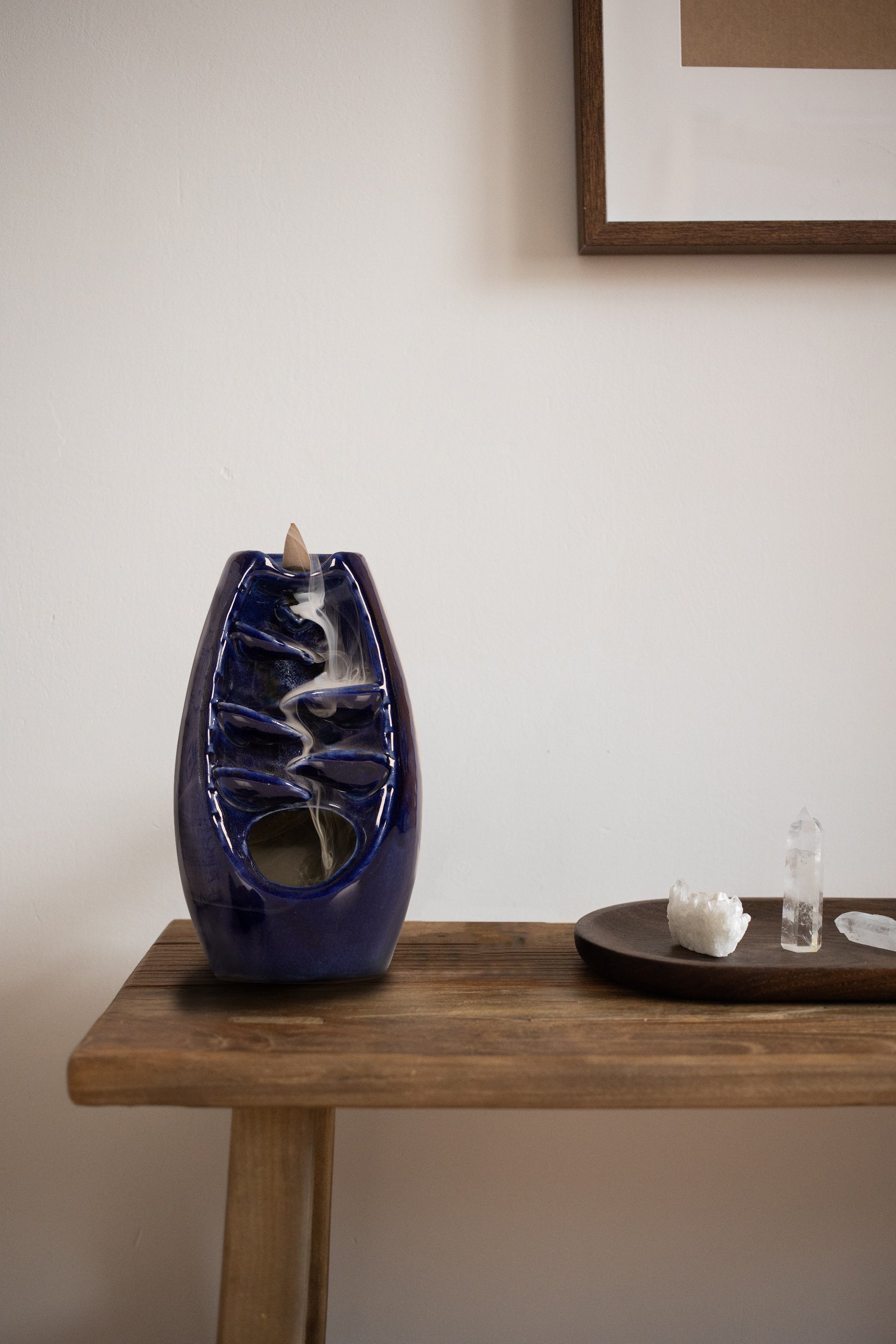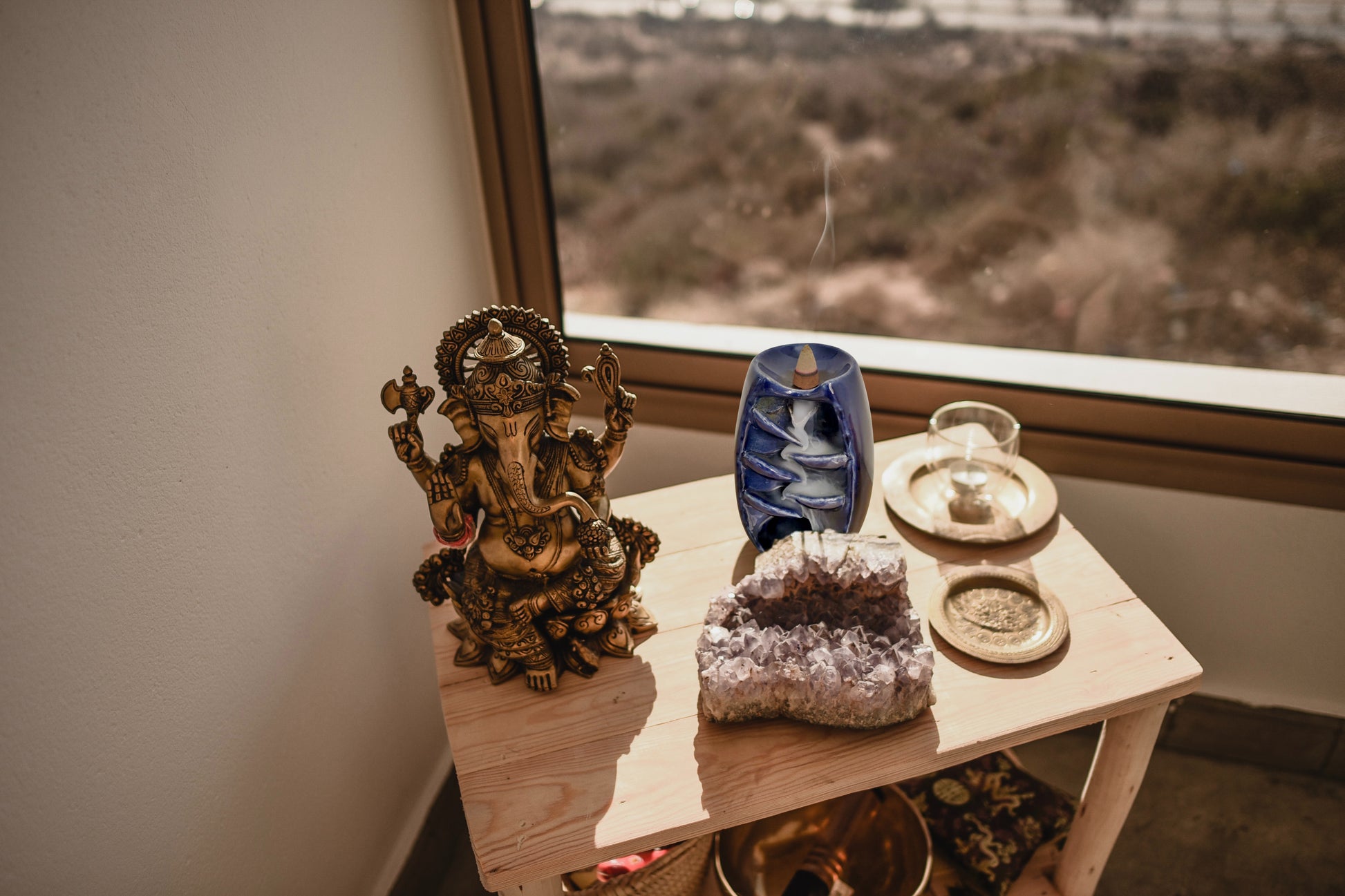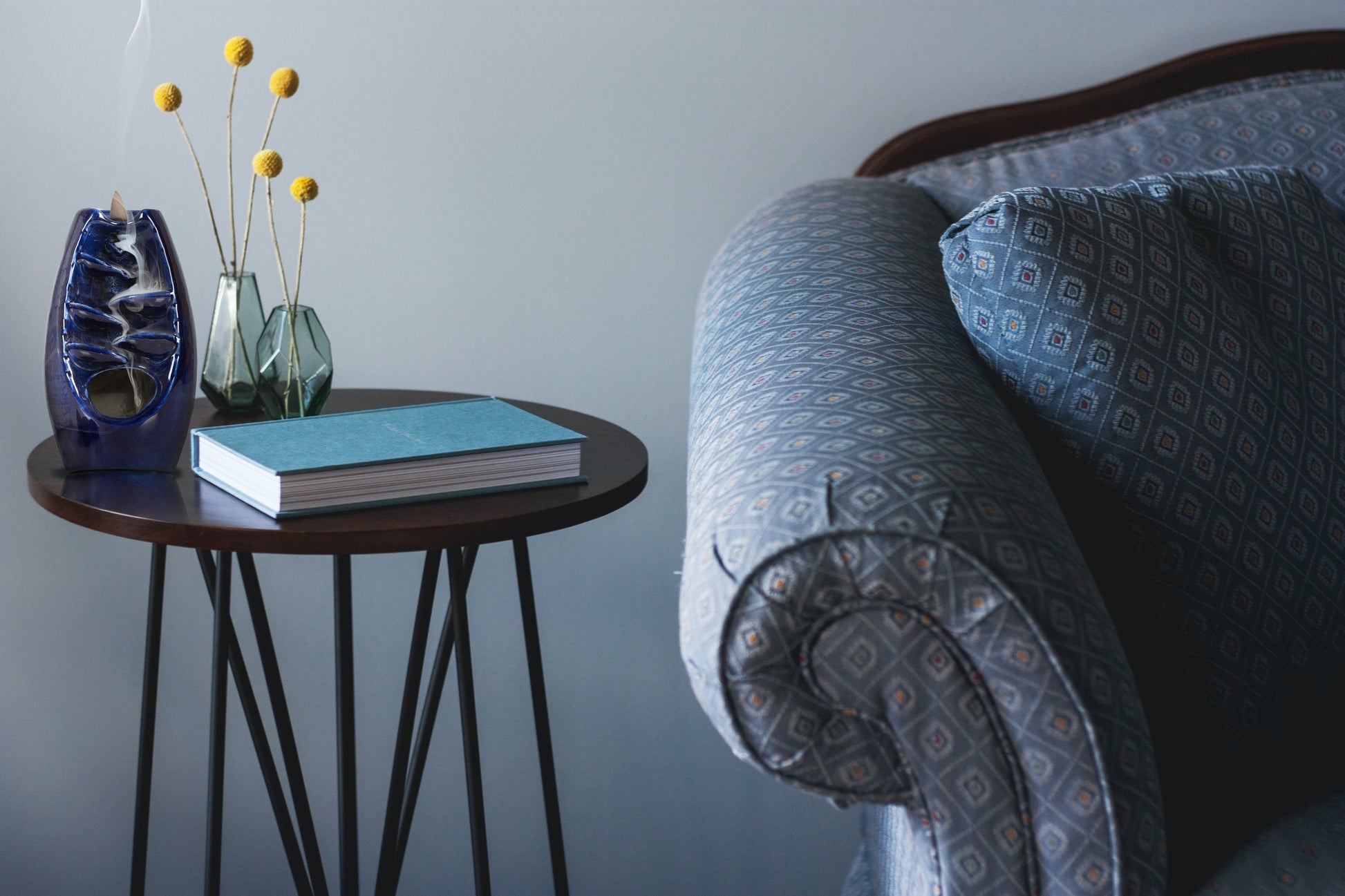 Backflow Waterfall Cones Ceramic Burner with 20 Cones
Regular price
₹​ 1,999.00
Sale price
₹​ 1,999.00
Regular price
₹​ 4,499.00
Tax included.
✅ Buy More, Save More!
✅ Buy 2 for 5% Off,
✅ Buy 3 for 7% Off,
✅ Buy 4 for 10% Off
✅ + Extra 3% Off for Prepaid Orders! 💳🎉
Estimated Delivery:Sep 23 - Sep 27

Free Shipping & Returns: On all Orders.
Home Decor & Office Decor, Fragrance and Gifts
Embark on a Soulful Journey-
Step into a realm of profound spiritual connection and emotional resonance with the Incense Backflow Cone Holder.
Crafted with reverence and imbued with intention.

Embrace the Divine Dance-
The sacred backflow design guides the incense smoke downward,
creating a mesmerizing dance that resonates with the rhythms of the cosmos.

Unveil Inner Harmony-
The Sacred SoulFlow™ Incense Backflow Cone Holder is more than a piece of art; it's a conduit to inner harmony. Allow the aromatic waves to envelop you, enabling a profound communion with your inner self, your loved ones, and the universe itself.

Crafted with Devotion-
Meticulously handcrafted from premium materials, its intricate design draws inspiration from ancient Indian symbolism, embodying timeless spirituality.
Elevate your meditation space, prayer room, or home sanctuary with this embodiment of divine aesthetics.

Elevate Your Rituals, Elevate Your Life-
Reconnect with the sacred power of scents and visual poetry as you embark on a transformative journey with the Incense Backflow Cone Holder. Allow its divine essence to lead you towards a deeper spiritual awakening and emotional equilibrium, enriching your life with each fragrant inhalation.

Embark on a Journey of Transcendence Today-
 Embrace the Path of Self-Discovery and Unity, Guided by the Profound Synergy of Aroma and Soul. The Sacred SoulFlow™ Incense Backflow Cone Holder, Presented by "The Fragrance People, " Awaits with Anticipation, Poised to Be Your Companion on this Soul-Stirring Pilgrimage.
About this item
Package Included: 1 incense holder, 20 incense cones

Place an incense cone at the top, and the smoke will begin to flow from top to bottom in the opposite way, creating a stunning smoky waterfall.

In addition to burning your preferred incense, incense burners add a beautiful touch to any room. Ideal for the yoga studio, the bedroom, and the study. Put them on a table, your desk, or ideally an altar stand.

Exquisite Craftsmanship: Made of ceramic, with a unique design and robust construction; possessing its own elegance and beauty; convenient for use.

Two Usages: The backflow incense burner can be used with incense cones or incense sticks. Backflow incense might take 50-60 seconds to start
Features: 1 Ceramic backflow ceramic burner with 20 scented cones 
Fragrance: Nag champa 
A pure woody diffusive essence of Champa, magnolia flower mixed with sweet and earth patchouli, and precious sandalwood in the base make it perfect to purify the air of negative energies and create an environment favorable to meditation & relaxation.
Product Code: TFP 159GF
Backflow Waterfall Cones Ceramic Burner with 20 Cones
Regular price
₹​ 1,999.00
Sale price
₹​ 1,999.00
Regular price
₹​ 4,499.00
Frequently Asked Questions
Where do you deliver and what are your logistics partners?
We deliver all across India and have partnered with reputed logistics providers including FedEx, BlueDart, Delhivery, Professional Couriers, and India Post. Our estimated delivery time is 3 to 10 working days, depending on your location.
What are your shipping charges?
What are your shipping charges?
We offer free delivery across India on prepaid orders. However, cash on delivery charges are applicable.
What is your cancellation policy?
We accept requests for cancellation of orders only if they are raised within 6 (six) hours of placing the order on our website. Since we usually ship orders within 4-6 hours, we cannot accept cancellation requests after this period. You can raise the cancellation request by sending us an email to info@thefragrancepeople.com or calling our customer care helpline number at +91-9717750750.