BLOG
Aromatic Expressions of Gratitude: Using Scented Gifts to Say Thank You
by Lipakshi Arora on Sep 09, 2023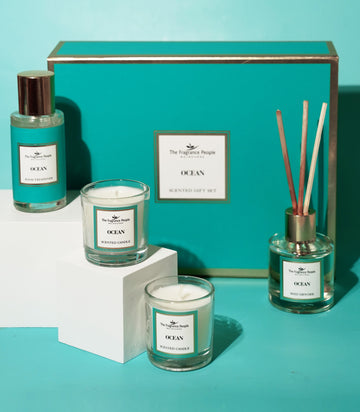 Gratitude is a powerful sentiment, and expressing it with a scented gift can leave a lasting impression. In this blog post, we'll explore the art of showing appreciation with scented presents. We'll introduce you to the captivating Fragrance Gift Set - Ocean by The Fragrance People and share two more delightful gift ideas.
Gift Idea 1: Personalized Scented Candles
Personalized scented candles add a special touch to your "thank you." These candles can carry a heartfelt message or the recipient's name, illuminating their space with warmth and appreciation.
Gift Idea 2: Fragrance Gift Set - Ocean: A Coastal Escape by The Fragrance People
The Fragrance Gift Set - Ocean is a scented treasure trove, invoking the refreshing essence of the sea. With candles, diffusers, and soaps reminiscent of ocean waves, it's a sensory delight that conveys your gratitude in a unique way.
 Product Link- https://www.thefragrancepeople.com/products/fragrance-gift-set-ocean?_pos=4&_psq=ocea&_ss=e&_v=1.0
Gift Idea 3: Spa-Inspired Bath Set
Consider a spa-inspired bath set as a luxurious gesture. It includes scented bath oils, salts, and scrubs, offering your recipient a chance to unwind and indulge in self-care.
Gratitude is best expressed through scented gifts, leaving a memorable impression. The Fragrance Gift Set - Ocean and other thoughtful options like personalized candles and spa-inspired bath sets offer unique ways to convey your appreciation. Let your gratitude linger in the air, creating a lasting bond.
Website link👉 https://www.thefragrancepeople.com/
YouTube link 👉 https://youtube.com/@thefragrancepeople8912?si=zUuNNS1GfLZbPoGV
Instagram link 👉https://instagram.com/thefragrancepeople?igshid=NGExMmI2YTkyZg==