BLOG
Citronella: Nature's Uplifting Shield Against Stress and Mosquitoes
by Arti jain on Aug 21, 2023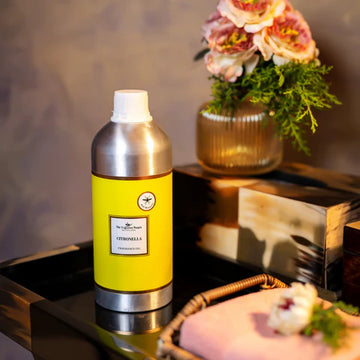 Discover the natural wonder of citronella – a versatile product that brings emotional upliftment, stress reduction, and a shield against mosquitoes into your life. With its rich citrus aroma, citronella acts as a mood enhancer, creating a positive atmosphere at home, in the office and in commercial space. Its innate mosquito-repelling properties make it an essential companion for outdoor activities and indoor tranquillity.
Harness the anti-fungal benefits of citronella to maintain a clean environment while enjoying its invigorating fragrance. Incorporate citronella into your cleaning routine by adding a few drops to your floor mop. For an aromatic escape, use it in an aroma burner, enveloping your senses with its revitalizing scent.
Elevate
 your well-being and guard against unwanted intrusions with the natural aroma of citronella. Embrace its multiple benefits to create an environment that uplifts your mood, reduces stress and repels mosquitoes – all in the embrace of a rich and refreshing citrus aroma.