BLOG
Elevate Wellness with French Vanilla: Boost Focus and Mood
by Lipakshi Arora on Oct 10, 2023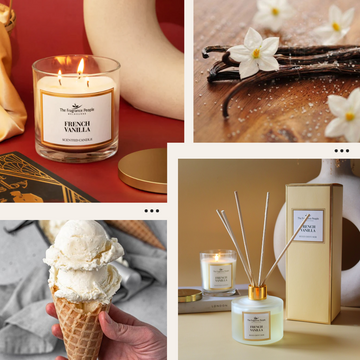 Amidst life's chaos, French Vanilla emerges as your serene sanctuary. Experience the magic of:
Product Link- https://www.thefragrancepeople.com/products/3-wick-scented-candle-french-vanilla
- Sharper Focus: Let the captivating scent of French Vanilla enhance concentration, making daunting tasks a breeze.
- Joyful Upliftment: Find solace in its comforting embrace, as stress melts away and your mood soars to new heights.
- Meditative Bliss: Create a haven of tranquility during meditation, guided by the gentle allure of French Vanilla.
- Vitalizing Aura: Infuse energy into your surroundings, revitalizing your senses and rejuvenating your space.
French Vanilla is more than a fragrance; it's a journey to well-being. Elevate your senses, nurture your spirit, and embrace a life of balance and harmony with the enchanting essence of French Vanilla 🌼🌿 by The Fragrance People.
Website link👉 https://www.thefragrancepeople.com/
YouTube link 👉 https://youtube.com/@thefragrancepeople8912?si=zUuNNS1GfLZbPoGV
Instagram link 👉https://instagram.com/thefragrancepeople?igshid=NGExMmI2YTkyZg==