BLOG
The Magical Backflow Burner: A Unique Rakhi Gift
by Lipakshi Arora on Aug 26, 2023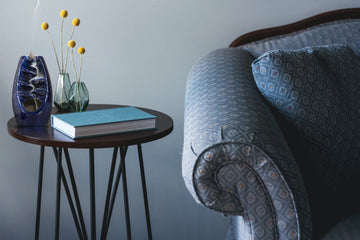 As Raksha Bandhan gets closer, think about giving something special like a backflow burner. It's a cool present that also brings a feeling of calmness – just like the spirit of Rakhi. Imagine giving your brother or sister a mesmerizing backflow burner that makes a lovely smoke waterfall, creating a peaceful feeling.

The beautiful smoke reminds us of what Rakhi is all about – promising to always be there for each other. In our busy lives, the backflow burner gives a nice moment to relax, which is perfect for your brother or sister. It looks pretty and makes any place feel calm and nice.

This Raksha Bandhan, why not give a gift that shows how much you care and cherish your bond – the backflow burner? From The Fragrance People, let this Rakhi be all about sharing peaceful moments and a strong connection, wrapped up in lovely scents and love.
Product Link👉https://www.thefragrancepeople.com/products/backflow-mystic-waterfall-cones-ceramic-burner-20-cones-home-decor-office-decor-fragrance-and-gifts?_pos=3&_psq=ba&_ss=e&_v=1.0 
Website link👉 https://www.thefragrancepeople.com/