BLOG
Elevate Bath Time with Scented Oils and Candles for Spa Bliss
by Lipakshi Arora on Sep 15, 2023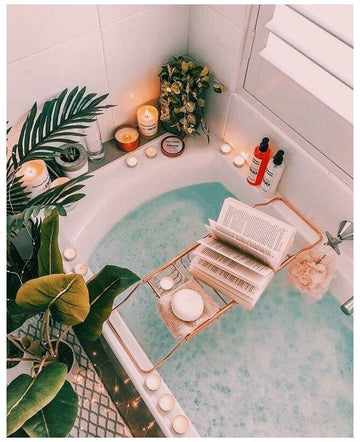 In today's busy world, taking time for self-care is crucial. A wonderful way to do this is by turning your bath into a mini-spa using scented oils and candles. Let's explore how these simple additions can make your bath time feel like a luxurious escape.
The Serenity of Candlelight Creating a Relaxing Atmosphere:
Candles are like a magic switch for relaxation. Their soft, flickering light helps you forget about the outside world and focus on pampering yourself.
Choosing the Right Candles: Pick scented candles that match your chosen oil for an even better experience. 
We recommend Candles by The Fragrance People 
Product Link- https://www.thefragrancepeople.com/collections/candles
Candle Safety: Remember to be safe with candles. Put them on a stable surface away from anything flammable and never leave them alone. LED candles can be a safer option.
By adding scented oils and candles to your bath, you can turn an ordinary routine into a soothing spa-like experience. So, light those candles, pour in your favorite oil, and let your worries melt away. Enjoy the relaxation!
Website link👉 https://www.thefragrancepeople.com/
YouTube link 👉 https://youtube.com/@thefragrancepeople8912?si=zUuNNS1GfLZbPoGV
Instagram link 👉https://instagram.com/thefragrancepeople?igshid=NGExMmI2YTkyZg==